Return to Headlines
Patriot Day Remarks from Liberty High School Senior Zane Landis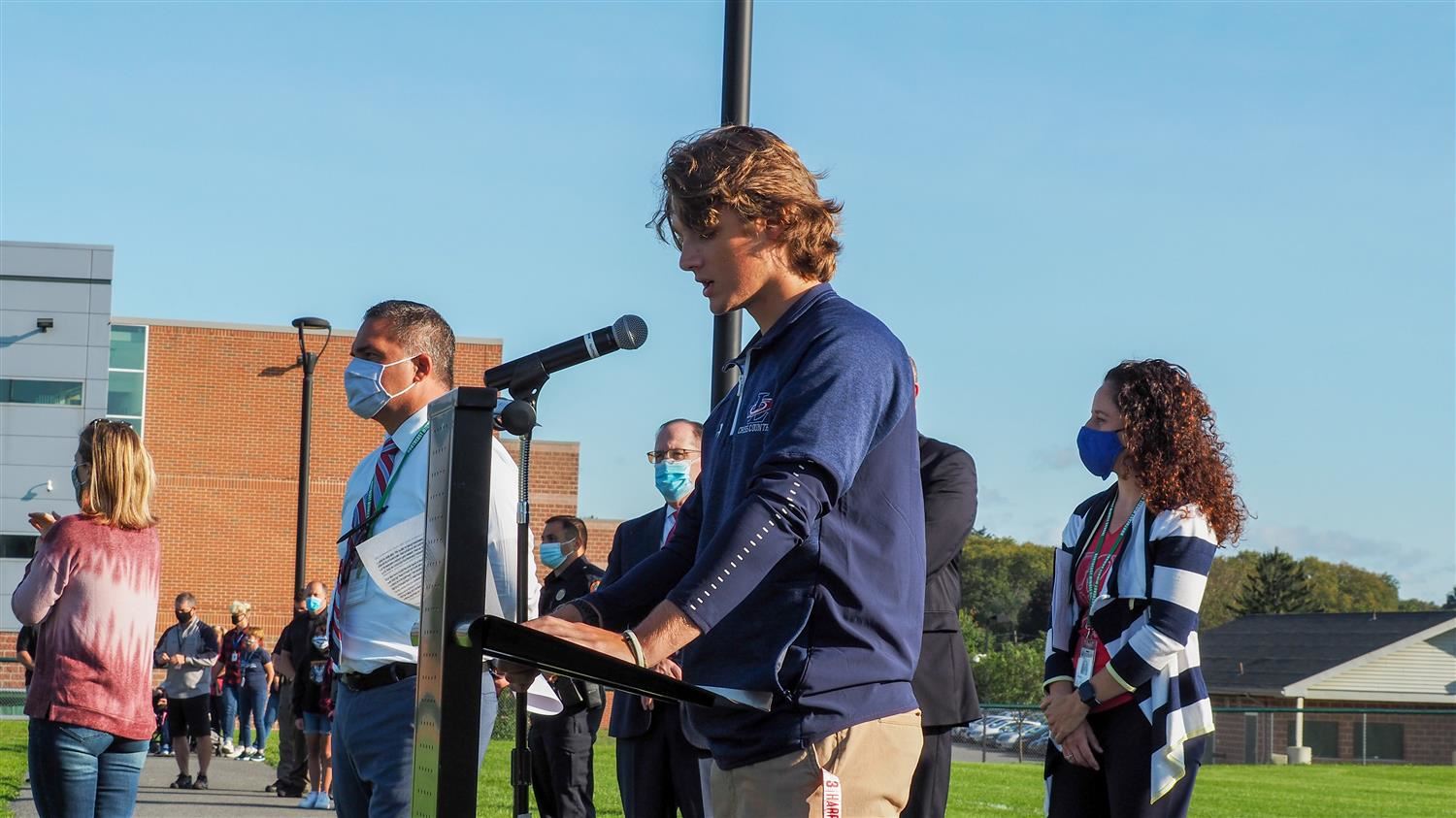 Patriot Day Remarks from Liberty High School Senior Zane Landis at Northeast Middle School's 9/11 Ceremony
---------
​​Hello, my name is Zane Landis and I am a senior at Liberty High School. I am honored to speak to you this morning. Many of us were not around when the events of 9/11 took place, but our lives are still being impacted by it today. When I was in eighth grade, my class did a project with our families. Our parents were asked to paint a piece of paper the color they remembered the sky being that day. My parents reflect annually about the events that occurred and about how brilliant blue the sky was that day. When my younger brother was in sixth grade, he interviewed my uncle for a class project about the events of 9/11. My uncle is a retired Air Force Colonel and was in the Pentagon when the plane hit. This was the first time my mom could remember my uncle talking about his experience. As my brother interviewed him, I was inspired by the way my uncle and his co-workers rallied together to help the victims of the terrorist attacks. He spent the day helping where he could in the chaos.
My dad is a firefighter for the city of Bethlehem and was on call and ready to help the firefighters in New York that day if needed. Bethlehem did not send firefighters into New York, however, every day the firefighters of Bethlehem are prepared to get in harm's way to help others.
Both my father and uncle are role models to me and make me want to be a role model for others. I am proud to say that the Northeast P.R.O.U.D. initiative helped to foster important skills that have made me a leader in my community. I would like to share with you how you too can become a leader in your community by following the Northeast P.R.O.U.D. initiative.
P.R.O.U.D.
P stands for pride. Pride is the feeling of accomplishment. Have pride in what you do. Whether you're in the band or are on a sports team, or just coming to school, be proud that you're doing these activities. Show up on time and give your best to each practice, performance and class.
R stands for respect. Consider other's feelings, rights, wishes or traditions. Just because someone else is different doesn't mean they're wrong or bad. By showing respect for others through our words and actions we earn respect. This allows us to work together and strengthen our community.
O stands for opportunity. Northeast is a great place for opportunities. There is a club for just about everything. At Liberty if there is a club or activity that you would like to do and it is not offered, you have the opportunity to start it. Getting involved is a great way to find out what you like, what you don't like, what you're good at, and to meet new people. Plus being involved looks good on resumes and college applications. Also take the opportunity to build a relationship with your teachers. They chose this profession to help students learn and grow. It is because of the relationships that I formed with my teachers here at Northeast that I was asked to speak to you today.
U stands for unity. Joining together as a whole. Unity is really the backbone to being proud and making Northeast the amazing learning community it is. When people come together, it strengthens pride, respect, opportunity, and dedication and when people are united and proud, powerful things can happen.
D stands for dedication. The quality of being committed to a task or purpose. Being dedicated to whatever you're doing builds how proud you are and increases your chance of completing the task. Be dedicated to being a good student. Find an organization that you can dedicate volunteer time to. Show the community that Northeast students can do great things.
As we reflect on the events that took place in New York, Pennsylvania, and Washington D. C. twenty years ago, I want to thank my uncle and my dad for their service to the community and for inspiring me to do good things. I am proud to be an Eagle Scout, a member of the Liberty High School Grenadier Band, a Canes baseball player, a member of the Liberty Cross Country team and a member of the BSA Bethlehem Police Department Explorer Post. My role models inspired me and the Northeast P.R.O.U.D. initiative helped to guide me to be the leader I am today. I now challenge you to be Northeast P.R.O.U.D. and strive to be better students and serve the community. Thank you.