Return to Headlines
Distinguished Diversity Awards 2022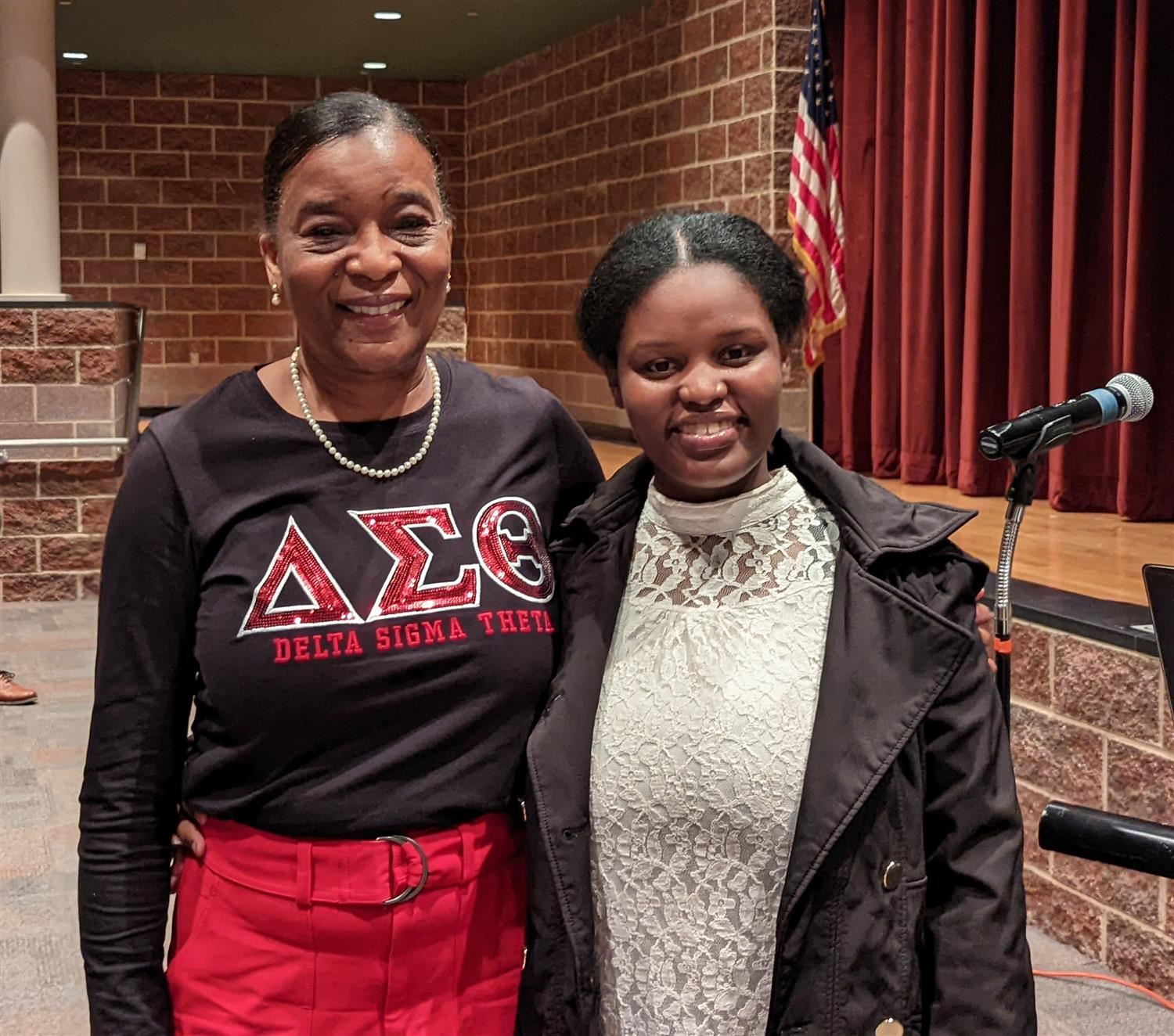 The Bethlehem Area School District Distinguished Diversity Awards Ceremony was held on Wednesday, May 18, 2022 at Northeast Middle School.

Congratulations to all award recipients!

--------------------

AWARDING OF PLAQUES & TROPHIES

BEST ATTENDANCE – Freedom
African-American – Sydney D. Brown
Latino – Crystal Flores

BEST ATTENDANCE – Liberty
African-American – Treyvon Lee Fitzpatrick
Latino – Jose J. Lopez Jr.

HIGHEST ACADEMIC RANK – Freedom
African-American – Afiya Bentinck
Latino – Emma C. Lazo

HIGHEST ACADEMIC RANK – Liberty
African-American – Amos O. Mokaya
Latino – Emmanuel E. Bulted

FINE & PERFORMING ARTS – Liberty
Latino –Male: Jaden G. Rivera

FINE & PERFORMING ARTS – Freedom
Latino –Female: Nicole M. Rosario
African-American –Male: Marc N. Humphrey

SPORTS – Liberty
African-American Female: Tamia Bruce Male: Joshua Farrell
Latino Female: Jasmyn Valdez Male: Javien DeLeon

SPORTS – Freedom
African-American Female: Sydney D. Brown / Male: Braelin Moore
Latino Female: Isabel Rodriguez / Male: Juan Feliciano

--------------------

COLLEGE TEXTBOOK ASSISTANCE AWARDS

The Cristina Navarro Award
Recipients: Cha'nel Hamilton (FHS) Jazmine Rodriguez (FHS)
Raymon Deschamps (LHS) Arthur Duval (LHS)

NIMS Step Team Award
Recipients: Elijah Ellington (LHS) Clara Diaz (LHS)

Latino Youth Leadership Club Award
Recipient: Virginia Rodas Vasconez (LHS)

Jesus "Berto" Rivera Memorial Award
(Vazquez, Rivera, Cofré Families)
Recipient: Josue J. Ayala-Garcia (LHS)

Betty Williams Memorial Award
(A Scholarship Grant from Lehigh Valley Community Foundation)
Recipient: Yarma Kollie (LHS)
--------------------

SCHOLARSHIP AWARDS

DR. CAROL A. EDDINGER-LOPEZ CULTURAL DIVERSITY AWARD
Recipient: Shley C. Nathan (LHS)

THE MORAVIAN UNIVERSITY SUPERINTENDENT'S SCHOLARSHIP
Recipients: Genesis De los Angeles Hernandez Castellon (FHS)
Shayaan Arvien Farhad (LHS)

JULIA de BURGOS & FOWLER FAMILY SCHOLARSHIP
(Sponsored by Beall Fowler & the Fowler Family)Recipients: Jaylin Nieves (LHS) Anasol Estevez (LHS) Allya Walters (LHS)
Crystal Flores (FHS) Anaiah Olivero (FHS) Gianna Dowling (FHS)
ENGLISH LEARNER SERVICES SCHOLARSHIP
Recipient: Vianca Rodriguez Moreno (FHS) Sebnem Mercan (LHS)
DONEGAN SHINING STARS SCHOLARSHIP
(Sponsored by Donegan Elementary School Staff)
Recipients: Crystal Flores (FHS)
HISPANIC CENTER SCHOLARSHIP
Recipients: Alexandra Mehnert (FHS)
Josue J. Ayala-Garcia (LHS)
JUST BORN MINORITY SCHOLARSHIP
Recipients: Ariana L. Rodriguez (FHS)
L.A.C.E.O./NAACP SCHOLARSHIP
Recipients: James Myers (FHS) Rajesh Ramautar (LHS)
RALPH LÓPEZ SCHOLARSHIP
Recipients: Emma C. Lazo (FHS) Emmanuel E. Bulted (LHS)
DON NALIN RODRIGUEZ SCHOLARSHIP
Recipient: Genesis De los Angeles Hernandez Castellon (FHS)
Josue J. Ayala Garcia (LHS)
ANGELA SÁNCHEZ MEMORIAL SCHOLARSHIP
Recipient: Julia Konschnik (FHS) Luzmarie Montanez Pedroza (LHS)
LEE MAE SEGEL SCHOLARSHIP
Recipients: Amari D. Corbin (LHS)
Irampaye Clarisse (LHS)
ELLA SPRINGS MEMORIAL SCHOLARSHIP
(Awarded by Dr. Johnnie Willis)
Recipients: Afiya Bentinck (FHS)
Amos O. Mokaya (LHS)
THE ELLY VAZQUEZ SCHOLARSHIP
Recipient: Nalysha Rivera (LHS)
SONIA VAZQUEZ COMMUNITY SCHOLARSHIP
Recipient: Alondra Laureano (LHS)
DELTA SIGMA THETA SORORITY SCHOLARSHIP
Recipient: Shley C. Nathan (LHS)